Phonics
Reading is one of the most important things that your child will learn at school.  We are committed to not only ensuring that every child leaves us with the ability to read fluently, but also to ensure that they love to read.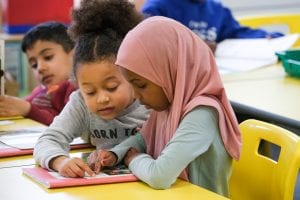 At Ebor Gardens, we believe that phonics is the most effective way to teach your child the skills needed for reading, writing and spelling.  This is why we teach phonics from Nursery to KS2.  We follow a scheme called 'Rocket Phonics' in EYFS,  KS1 and Year 3; and 'Phonics International' in Years 4, 5 and 6.  Both programmes have been approved by the Department of Education as being highly effective in the teaching of phonics.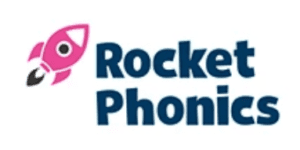 How will my child be taught?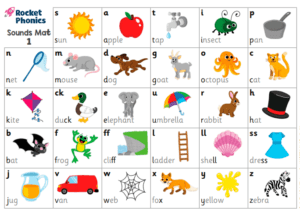 Your child will be taught to identify, say and read all 44 sounds of the English language.  The sounds will be taught in a specific systematic order.  Rocket Phonics has grouped these sounds into colour bands, which relates to the colour of the books that your child will be able to read as they explore new letter sounds. 
 Your child will be taught one letter-sound over two days.  The first day will focus on the skill of blending (for reading) and the second day will focus on the skill of segmenting (for writing).   This two-day pattern will be repeated twice through the week, leaving the fifth day as an opportunity for us to focus on common exception words.   We believe this provides your child more opportunity to learn, practice and apply the skills being taught before moving on.
Each session follows the same routine.  This allows your child to focus on the skill being taught and allows them to complete the task independently.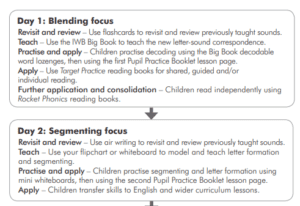 How can I help my child?
The teaching of sound pronunciation can be tricky!  Your child will need lots of practice to help them embed this skill.   Rocket Phonics has created 12 videos (please see below), which demonstrates every sound from band 'Pink' to band 'Orange'.  These videos can be useful for both you and your child and can be used to assist them in their home learning.
We know as adults that you are very busy but we would encourage you to ask your child to read to you on a daily basis.  Each week your child's teacher will send home a reading book matched to your child's reading level.   Additionally, your child can access the Boost online platform (link below) where they can read e-books. 
https://passport.hoddereducation.co.uk/authenticate?referrer=https://boost-learning.com/&app=24
What will my child be taught in EYFS?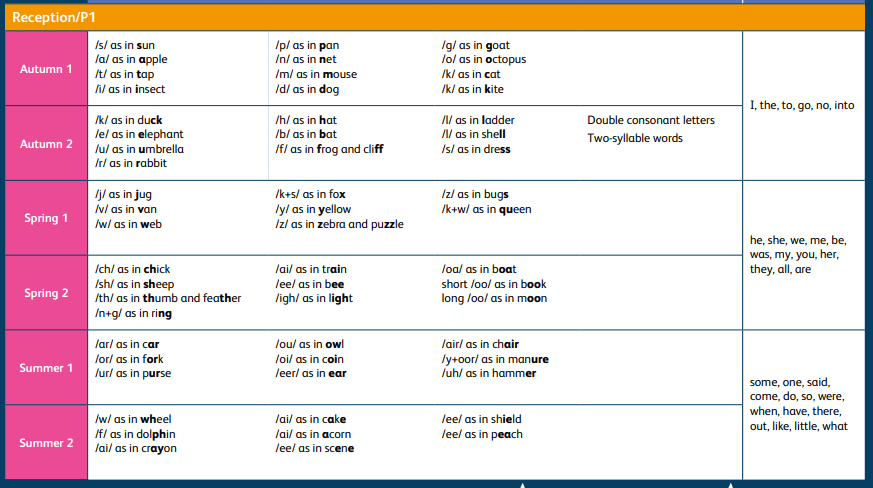 Children in EYFS will receive a daily phonics session.  The sessions are taught using the Rocket Phonics resources, such as the big books, flashcards and pupil practice booklets.  The sounds are taught in the order that they appear in the Rising Stars Rocket Phonics books.  The chart above shows you the order that your child will be taught the sounds.  Below are the Rocket Phonics videos to help with the pronunciations of the code that will be taught in EYFS. For parents of children in Year 1 this would also be useful revision!
Autumn 1 – Pink A
Autumn 2 – Pink B
Spring 1 – Red A
Spring 2 – Red B
Summer 1 – Yellow
What will my child be taught in Year 1?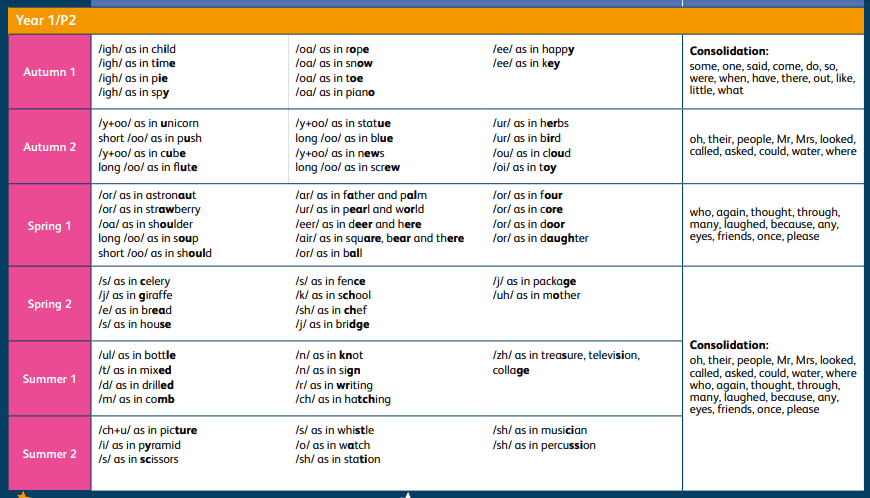 In Year 1 your child will continue to receive daily phonics lessons which will build upon the foundation established in EYFS.  The below videos show the order in which your child will be taught these sounds and the term in which they will be taught. 
Autumn 1 – Blue
Autumn 2 – Green
Spring 1 – Green
Spring 2 – Orange
Summer 1 – Orange
Summer 2 – Orange
 Will my child have to complete the Phonics Screening check?
In the Summer Term, children in Year 1 are required to take a statutory check to assess their understanding of phonics.  Your child will be expected to read 40 simple words, which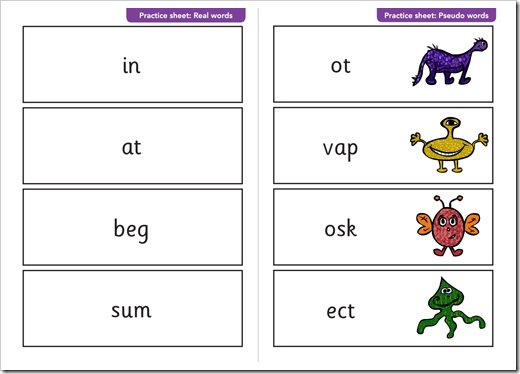 will be a mix of real words and nonsense words (there is an example of this on the right).  If your child does not pass the test in Year 1 they will be given additional support in Year 2 and retake the assessment at the end of Year 2.
Useful information for parents
http://https://www.risingstars-uk.com/subjects/reading-and-ebooks/rising-stars-reading-planet/reading-planet-reception-and-ks1/rocket-phonics/phonics-parent-support
---
Phonics International Teaching Sequence:
In Years 4, 5 and 6, the children enjoy 30 minutes of intense phonics learning three times a week. However, phonics is used every day during reading and writing lessons. 
Revisit and Review
We use flashcards to begin every session so that our children are confident in their recognition of the letters on the page, and those which they will select for writing. Each flashcard helps children to memorise each sound through use of a picture and a 'code'.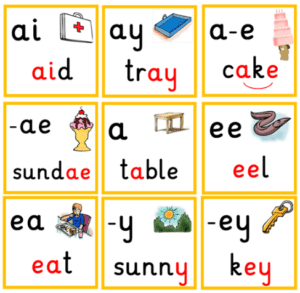 Teach
We use a flashcard to introduce the new sound(s) to pupils and we learn the new 'code'. 
Apply
The first section of the session focuses on reading (decoding), where the children work independently to complete sound activity sheets.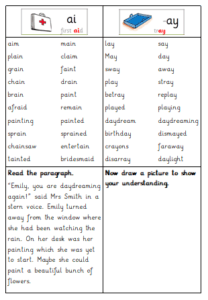 This is followed by 15 minutes of spelling (encoding). Pupils practice spelling by sounding out the words they are told to spell by their teacher, following the spelling and editing routine. This routine is designed to enable children to hear and identify the correct number of phonemes (sounds) in words and encode them by selecting the corresponding (correct) graphemes.

Parents can help their children to learn the phonics code through LOTS of practice. As part of the home-learning routine, phonics activity sheets will be sent home for you to re-do with your child, consolidating the learning in school.
If you are unsure of the phonics sounds, the videos on this website may help you support your child in Years 4, 5 and 6 with phonics.