School Times and Term Dates
School Times
Breakfast Club

7:30-8:30 –

Free to all children
Start of school day
8:30 – 8:45
Lessons begin
8:45
All gates will be closed at
8.50
Lunch Early Years
11:15-12:15
Lunch Years 1 and 2
11:40-12:25
Lunch Years 3 and 4
11:55-12:40
Lunch Years 5 and 6
12:15-13:00
The school day officially begins at 8:45 and ends at 3:15.
Doors open 8:30 and close at 8:45 as all gates are locked. Any children arriving after this time will come through the main reception to be registered and escorted to the classroom.  No child will be allowed through other classrooms to get to their own.
Early Bird morning sessions begin at 8:30am.

Formal Lessons begin at 8:45am.
There is a whole school assembly every Monday 9:00am (KS1) 2:30pm (KS2) with either an ethos, religious or British Values focus.
Award Assemblies are held every Friday at 9:00am (KS1) 2:30pm (KS2)
Class assemblies are held for Years 1-6 throughout the week, in classrooms
We offer 32.5 hours of learning at Ebor Gardens Primary Academy
Training Days for 2022/2023
4th September 2023, 5th September 2023
8th January 2024
9th February 2024 (Wellspring Training Day)
22nd & 23rd July 2024
School Calendar Academic Year 2023/24
School Calendar Academic Year 2023-2024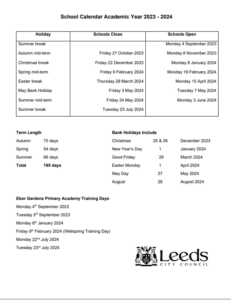 Events for October 2023
Events Search and Views Navigation
There were no results found.
Calendar of Events
Calendar of Events

| Monday | Tuesday | Wednesday | Thursday | Friday | Saturday | Sunday |
| --- | --- | --- | --- | --- | --- | --- |
| 25 | 26 | 27 | 28 | 29 | 30 | 1 |
| 2 | 3 | 4 | 5 | 6 | 7 | 8 |
| 9 | 10 | 11 | 12 | 13 | 14 | 15 |
| 16 | 17 | 18 | 19 | 20 | 21 | 22 |
| 23 | 24 | 25 | 26 | 27 | 28 | 29 |
| 30 | 31 | 1 | 2 | 3 | 4 | 5 |